AR IRL
Thursday, 11 March 2021 Be inspired Lead change Get creative Start exploring
Tristan Garner is an artist and keen technologist. His creative journey began with a love of music and held jobs in the music industry from stage designer, to content creator, to Head of Augmented Reality (AR) at Made in The Pile (MITP) Agency.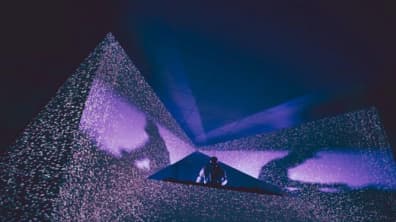 Over the course of his career, Tristan has evolved and adapted with tech, using it to create and entertain people all over the world. His move from Audio Visual (AV) to Augmented Reality (AR) has helped MITP gain 3 billion impressions on Instagram by creating 50+ branded filter effects… and in the process, becoming the only AR filter partner for Facebook in Australia.

We asked Tristan how he got into the industry and how he has managed to make a career out of mind-blowing projections and AR filters.
What did you want to do when you were in secondary school?
I didn't really know what I wanted to be for most of secondary school. I was a bit of a day dreamer. I enjoyed art but I wasn't interested in being a painter or illustrator. Video equipment was expensive. Even doing normal video editing, like you can do on a phone now, was an incredibly painful process on home computers back then.
What made you want to learn more about AV technology?
A love of music. I would (badly) record my secondary school band on this ancient 4 track cassette player. Our guitarist and I went halves, buying it off Gumtree. It was made before we were born. I've always loved playing with technology. I still buy old hardware to play with for fun.
What's your all-time favourite event you worked?
Circo Festival 2014 - I designed both stages and a light tunnel to link the two. My cannonball stage was very special to me. It was my ode to stage design. It enveloped the DJ and used real time effects with pre-made loops to breathe life into it.
How did you go from AV to AR?
It was my transition from audio to visuals that had the greatest impact on me. While I still like to make music for fun, and enjoy the music I made years ago; visuals have become my creative outlet. The transition from 3D animation to AR was effortless in comparison. All the skills I learned really came in handy for AR.
Did you think you would be doing 3D animation as a job when you were in school?
No. I never even dreamed I'd make 3D animation when I was at school. I did some live sound when I arrived in Australia – but it was working AV jobs and doing video stuff for fun, that I noticed the creative outlet I enjoyed in music, was the same in AV. I found I could contribute to music in my own way and still be creative.
Tell us about your job
I've worked with the MITP guys for 8 years. Over that time my role has evolved. I think of myself as some abstract storyteller/digital facilitator more than being defined by one job title.
What advice do you have for young people interested in gaining experience in your industry?
AR is hugely exciting and we are barely scratching the surface. Jump in! Most software has free trials. Open source options grow all the time, and they rival paid software nowadays, due to community involvement and collaboration. I wish there was the wealth of YouTube tutorials and resources available when I was younger.
If you could tell your 15 year old self anything what would it be?
While you can do anything, work/life balance is important. Understand the implications of doing what you want to do in an industry, and what it actually entails past the end goal of being x or y. Enjoy the journey rather than the destination. Enjoy the challenges, and while you shouldn't shy away from things you don't excel at, understand your strengths and weaknesses. Intelligence isn't linear, everyone makes mistakes.
Instagram
Instagram Filters: @filt.ar and @madeinthepile
Website